Commercial Garage Door Openers
Your business needs a reliable overhead garage door system with a convenient and secure opener device to keep operations running smoothly.

Superior Service
We pride ourselves on giving the best experience fulfilling our customer's overhead doors needs.
Convenient & Secure Garage Door Openers
Garage door openers give you the key to your work area. You need a garage door opener with durability, reliability, and security features. Keep employees and customers alike safe and moving forward with properly functioning garage door openers.
Consider these four types of garage door openers when replacing a garage door opener or installing a new garage door.
Jackshaft garage door openers mounted on the side of the garage door work best for most commercial garage door installations. The high ceilings of many commercial warehouses and centers make this the most popular for commercial industries.
Chain Drive openers are durable, long-lasting, and the most commonly used type used. They use a chain similar to what you would find on a bicycle. They make more sound than the next-door option below.
Belt Drive systems have fewer moving parts than the chain drive, making it a much quieter solution. A belt drive opener is more expensive, but you are investing in a history of providing more extended service.
Screw Drive garage door openers are the noisiest of the three. They are the easiest to maintain but may need more frequent upkeep. The opener has fewer parts, including a steel rod turned by the electric motor.
Contact us at Clifton Overhead Doors for more information or for help making an informed decision. Your business depends on getting in and out in a timely and secure manner. Stay on top of it all with the latest garage door openers.

As the leader in residential and commercial access, LiftMaster designs and delivers the safest, smartest door and gate solutions to keep everyone moving forward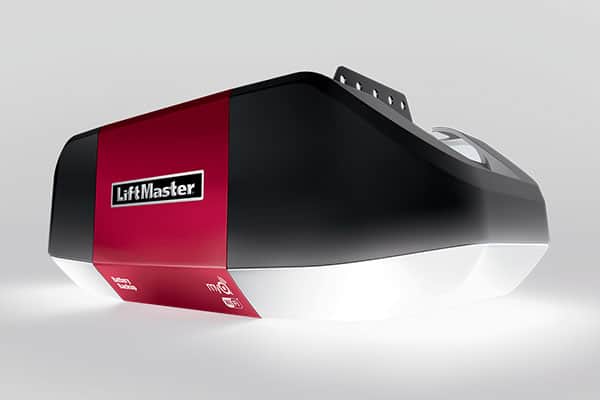 We service all garage door openers.
If you need more features or your opener is no longer working correctly, let us know. We can repair every make and model of garage door opener.
With a commercial business, you need security, good lighting, and knowledge of the state of your garage even when you are not there. Take advantage of the latest features in technology with today's newest features. Consider some of the latest add-ons and services to help you stay secure and on top of everything.
Connect to your car though services like Homelink
Get wall to wall lighting in your garage.
Open, Close and Lock with your iOS or Android mobile phone.
Make your door smart with NEST and other smart home technologies.
Take advantage of modern opener security features.
Contact us today at Clifton for superior service as we meet your needs for overhead doors. We are here to help with any questions or concerns. Come by or call us today and find solutions for your business needs.