We help our customers with may opener solutions including side mount and overhead options. 

Superior Service
We pride ourselves on giving the best experience fulfilling our customer's overhead doors needs.
There are four types of garage door openers to consider when you are either replacing one or doing a new installation.
A Chain Drive openers are durable, long-lasting, and the most commonly used type used. They use a chain similar to what you would find on a bicycle. They make more sound than the next door option below.
The Belt Drive system is considered to be the best type of garage door opener. There are fewer moving parts than the chain drive making it a much quieter solution. A belt drive opener is more expensive, but you are investing in a history of providing longer service.
Finally, Screw Drive garage door openers are the noisiest of the three. It's the easiest to maintain but may need more frequent upkeep. The opener has fewer parts including a steel rod turned by the electric motor.
Jackshaft garage door openers are mounted on the side of the garage door and are most commonly used in commercial garage door installations. However, in recent years, more have become popular in residential applications when the home has ceilings that are either too high or low for a central door opener or the ceiling is sloped. 

As the leader in residential and commercial access, LiftMaster designs and delivers the safest, smartest door and gate solutions to keep everyone moving forward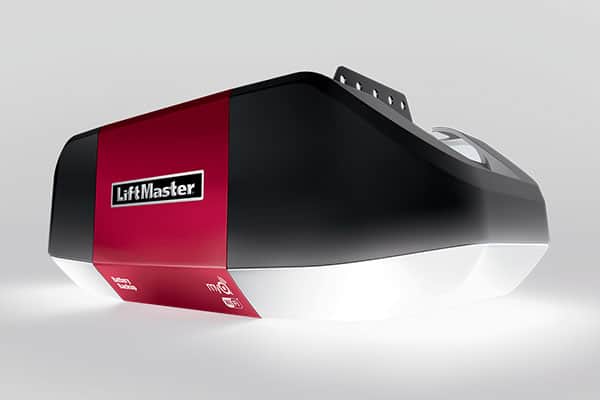 We service all garage door openers.
Take advantage of the latest features in technology and security of today's garage door openers.
Connect to your car though services like Homelink
Get wall to wall lighting in your garage.
Open, Close and Lock with your iOS or Android mobile phone.
Make your door smart with NEST and other smart home technologies.
Take advantage of modern opener security features.